Indoor team building remains one of our forte as we continue to develop new and innovative team activities that is suitable for the general office worker and can bring about important lessons that helps teams work better together.
Our indoor team building programmes usually typically takes up half a day in duration (customisable) and can be deployed anywhere in the world as long as our staff can get there (we bring everything we need).

All you have to do is introduce us (if you want) and hand the session over to us and enjoy the team building experience with your colleagues!
Here are SOME of our popular indoor programmes, do contact us to find out more about them and our other programmes.
If you are looking for team building for salespeople (click here), or remote team building(click here). We also have leadership teambuilding, outdoor teambuilding categories for you to consider. We also custom design team building programmes for our clients!
One of our flagship programme, this is a REAL-TIME strategy board game where participants have to delegate duties, creatively problem solve, plan for contingencies and make quick decisions to emerge as the winning team.
Ideal for Leadership Teams, Cross Functional Teams & Work Teams.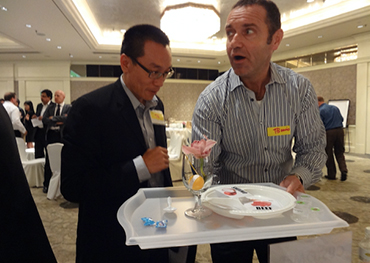 Teams manage a restaurant to serve demanding customers, striving to win the best customer service award for their shop.
Creativity, problem solving skills and good team work comes into play in this fast-paced and highly engaging activity.
änergy Reels
Let your creative juices flow. Learn about creating engaging content through the use of artificial intelligence, storyboarding, scripting. Teams compete to shoot the best short video from scratch based on a specified theme.
änergy Custom Kicks
Transform an ordinary pair of shoes into a truly unique masterpiece in this captivating team activity. Participants are invited to unleash their creativity and embark on a journey of artistic expression, with no prior artistic talents required.

Creativity, vivid imagination, collaborative artistry and communication play a vital role in the perfect team Custom Kicks!
änergy Brains, Brawn & Bucks
Modeled after Dr. Howard Gardner's research on multiple intelligences, this game challenges teams to put their heads (and hands) together to answer a wide genre of questions that test different aspects of intelligence.

Communication, team work, leveraging on strengths & quick-thinking are all required to outperform the other teams!
Teamworks
Teams engage in a series of diverse team challenges that serve as a comprehensive assessment of their various skill sets and abilities.

These challenges are designed to encompass a wide range of competencies, fostering a holistic evaluation of the team's capabilities.
Embracing diversity, competition, collaboration and communication are critical success factors in this challenge.
Cross Boarders
Imagine observing your typically passive colleagues undergo a remarkable transformation into highly effective negotiators through engagement in an exceptionally captivating collaborative board game.

In this intriguing game, participants immerse themselves in a world of negotiation, honing their skills and adopting diverse strategies to emerge victorious in securing lucrative deals and agreements.

Warning: things might turn ugly.

änergy Roadster
Teams compete to create the fastest race car out of ordinary carton boxes.

A brave colleague then takes the role of a F1 driver and their creations pit against each other in the final race.
änergy Marketing Intern
Dive into the world of digital marketing and learn all about bringing a product to market.

Choose from a few topics to focus on like: SEO, SEM, SMM, Content Creation, Marketing Analytics & e-Commerce.
From marketing strategies to simple website design and/or content creation, team members divide to emerge as the top Marketing Intern (team).

It is adapted from the classic tower building game with drinking straws and tape, but the teams will soon realise they have a much bigger problem than that when the game starts.
They will go through change after change while trying to creatively solve the problems that crop up, get to work with different team members and learn about effective communication, workplace relationships, and eventually how to manage change!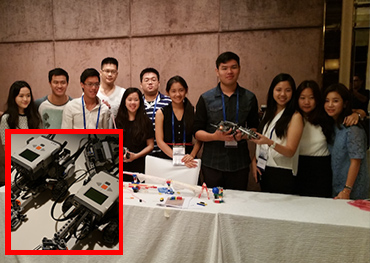 Transformers
The robotics set include programmable components, sensors, and motors that allow users to create and control robotic creations.
Teams lean to solve mechanical issues and simple programming to create a robot that can complete the given tasks autonomously.