Leadership team building programs are a crucial component of modern organizational development strategies. These programs are designed to cultivate effective leadership skills within a group while fostering collaboration, communication, and trust among team members. They play a pivotal role in shaping successful leaders who can guide their teams towards achieving common goals.

Our leadership team building programs are built upon the fundamental principle that a skilled leader isn't necessarily the best at every task, but rather someone adept at recognizing the unique talents in others and strategically placing them in roles where they can excel.
If you are looking for team building for salespeople (click here), or team building programmes recommended to improve customer service (click here). We also have indoor teambuilding, outdoor teambuilding, remote teambuilding & customised teambuilding programmes for your consideration.

Here are our recommended programmes for leadership team building.
One of our flagship programme, this is a REAL-TIME strategy board game where participants have to delegate duties, creatively problem solve, plan for contingencies and make quick decisions to emerge as the winning team.
Ideal for Leadership Teams, Cross Functional Teams & Work Teams.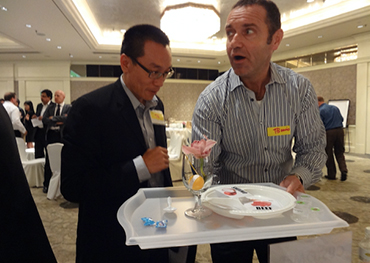 Teams manage a restaurant to serve demanding customers, striving to win the best customer service award for their shop.
Creativity, problem solving skills and good team work comes into play in this fast-paced and highly engaging activity.
änergy Reels
Let your creative juices flow. Learn about creating engaging content through the use of artificial intelligence, storyboarding, scripting. Teams compete to shoot the best short video from scratch based on a specified theme.
änergy Marketing Intern
Dive into the world of digital marketing and learn all about bringing a product to market.

Choose from a few topics to focus on like: SEO, SEM, SMM, Content Creation, Marketing Analytics & e-Commerce.
From marketing strategies to simple website design and/or content creation, team members divide to emerge as the top Marketing Intern (team).

Cross Boarders
Imagine observing your typically passive colleagues undergo a remarkable transformation into highly effective negotiators through engagement in an exceptionally captivating collaborative board game.

In this intriguing game, participants immerse themselves in a world of negotiation, honing their skills and adopting diverse strategies to emerge victorious in securing lucrative deals and agreements.

Warning: things might turn ugly.

änergy Roadster
Teams compete to create the fastest race car out of ordinary carton boxes.

A brave colleague then takes the role of a F1 driver and their creations pit against each other in the final race.