Are you tired of the same old team-building programs that everyone has done multiple times before? Look no further! At Anergy, we specialize in tailoring our programs to not only enhance the effectiveness of achieving your learning objectives but also provide an exceptional learning experience for all participants.
The benefits of customised are many, they include: enhanced engagement, ability to address certain issues at work and better focus to improve specific problem solving skills needed for the work environment.
We had worked with a Financial Services Institution based in Singapore to customise a team building programme for the launch of their customer service headquarters here and they were so satisfied with it, that they flew our team over to Jakarta to deliver the same programme for their colleagues for the opening of their Jakarta office.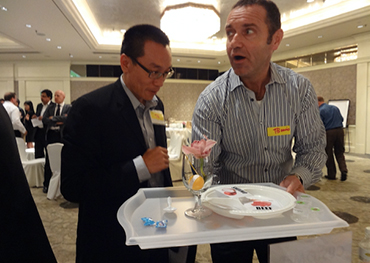 Below is our 8-Step process for Customised Team Building design.
Step 1: Exploratory Meeting
In this initial meeting, the primary goal is to understand the specific training needs of the organization or individuals. The following tasks are typically accomplished:
Identify learning objectives: Determine what participants should achieve through the training session.
Venue and logistics: Decide on the location, duration, staff profiles, group size, and intended training dates. These logistical details are essential for planning.
Step 2: Stakeholder Meeting
Meeting with stakeholders is crucial for gathering input and ensuring alignment with organizational goals. During this step:
Stakeholder input: Gather input from key stakeholders to understand their expectations, any specific learning outcomes they desire, or any particular focus areas they want to emphasize in the program.
Step 3: Ideation Phase
This phase involves brainstorming ideas based on the requirements and goals identified in previous steps. Key activities include:
Generating ideas: The team generates a variety of training concepts and activities.
Proposal: Present these ideas to the client or team for selection.
Step 4: Design Phase
In this internal phase, the program is designed in detail. Key tasks include:
Program logic: Define the flow and structure of the training program.
Materials creation: Develop training materials, presentations, and resources.
Manpower planning: Determine the number of facilitators or trainers needed based on the group size and complexity of the training.
Step 5: Presentation of Programme
This step involves presenting the program details to the client or committee to gather input and refine the program further. It allows for collaboration and improvement of the training content.
Step 6: Delivery Planning
Based on the finalized program design, plan the training schedule and determine the class size. This step ensures that the logistical aspects are well-organized for the training sessions.
Step 7: Programme Delivery
The actual execution of the training program takes place during this phase. Trainers or facilitators deliver the content to the participants according to the established schedule and plan.
Step 8: Post Training Evaluation
After the program is completed, feedback is collected from participants and stakeholders to assess the program's effectiveness. This feedback helps identify areas for improvement in future training sessions.
These steps collectively form a structured approach to designing, planning, and delivering effective training programs or team building workshops.
If you are looking for team building for salespeople (click here), or team building programmes recommended to improve customer service (click here). We also have leadership teambuilding, indoor teambuilding, outdoor teambuilding & remote teambuilding categories for you to consider.