Team building activities play a crucial role in strengthening bonds among customer service team members. Customer service team building is the process of fostering collaboration, communication, and trust among team members to enhance their ability to deliver exceptional service.
We will explore various activities that can be tailored to your customer service team's needs.
If you are looking for team building for salespeople (click here), or remote team building(click here). We also have leadership teambuilding, indoor teambuilding, outdoor teambuilding categories for you to consider. We also custom design team building programmes for our clients!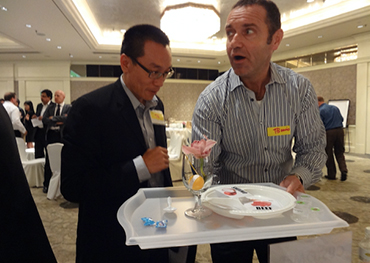 In this exhilarating team-building scenario, teams take on the role of managing a bustling restaurant, and their mission is to deliver top-notch service to demanding customers while aiming to secure the prestigious "Best Customer Service Award" for their establishment.

This is a customer-centric challenge where creativity, excellence, problem solving under pressure and flawless execution of operations all contribute towards winning this challenge.

änergy Piece It!
Teams compete to complete this giant jig-saw puzzle without initially knowing what they are piecing together.

Participants engage in a thrilling and collaborative challenge.

This unique exercise is designed to foster teamwork, communication, and problem-solving skills among team members.
änergy Custom Kicks!
Transform an ordinary pair of shoes into a truly unique masterpiece in this captivating team activity. Participants are invited to unleash their creativity and embark on a journey of artistic expression, with no prior artistic talents required.

Creativity, vivid imagination, collaborative artistry and communication play a vital role in the perfect team Custom Kicks!
änergy Multi-Builder
This engaging structure building activity is designed to foster a multifaceted skill set among participants.

It presents a dynamic and hands-on challenge that encourages individuals to strategize, communicate effectively, collaborate seamlessly, and remain adaptable in the face of change.

As teams work together to construct a physical structure, several valuable learning points emerge, including willingness to change, having a collaborative mindset, seeing the bigger picture and having 2-way communications.

änergy Synergy Race
One of our flagship programmes which we have run more than 500 times around Asia and China, with more than 15,000 participants (and counting).
This can be done within a resort/ hotel boundary, as well as around Sentosa, Town Area, Suntec City or Marina Barrage.
Learning outcome of this activity is highly customisable as it comprise of separate, small team challenges.

Participants not only get to explore the city and also learn important team building lessons from the various station tasks.
änergy unite
In designing this innovative activity, the primary goal was to create an inclusive and accessible experience, making it more friendly for participants with varying fitness levels.

Unlike traditional sports, this activity has been adapted to ensure that individuals of who do not engage in sports regularly can actively participate and enjoy the benefits of team engagement.

Learning values for this activity include: teamwork, persistence, resilience, strategy and having a positive mindset.

änergy unite can be conducted either indoors or outdoors.